Hard Work On Display For Two Art Students
Final papers, projects, and exams are a hallmark of the end of a school year. Students in every grade level of Granville High School are hard at work making sure all their assignments are completed ahead of the final day of school, which is only a few weeks away.
For students enrolled in the Independent Art Studies class, that means making sure their 2023 Art Show exhibit is ready for opening night.
Senior Ashton Fosmer and Junior Kaden Gates have spent the spring semester completing their independent study art class learning under the tutelage of High School Art Teacher Todd Houston. While there are a number of responsibilities that come with enrollment into the independent study program, the main goal is to create, develop, and complete an art exhibition that tells a story.
"Independent study is an idea born out of finding new ways to challenge and push our students to reach new heights with their talent," said Mr. Houston. "Creating an art show from scratch is more than creating the pieces you put on display for guests to see. It's about building a narrative, creating a story, and executing a plan to successfully share that story with the community."
Mr. Houston tasked both Ashton and Kaden with specific guidelines to follow when creating a show. Each student was responsible for creating a press release announcing the opening of their show, completing artist statements explaining the significance of each piece included in the exhibit, constructing a general theme or big picture idea that the exhibit follows from start to finish, and creating the 10 pieces that will be on display for the public to see on the night of the show.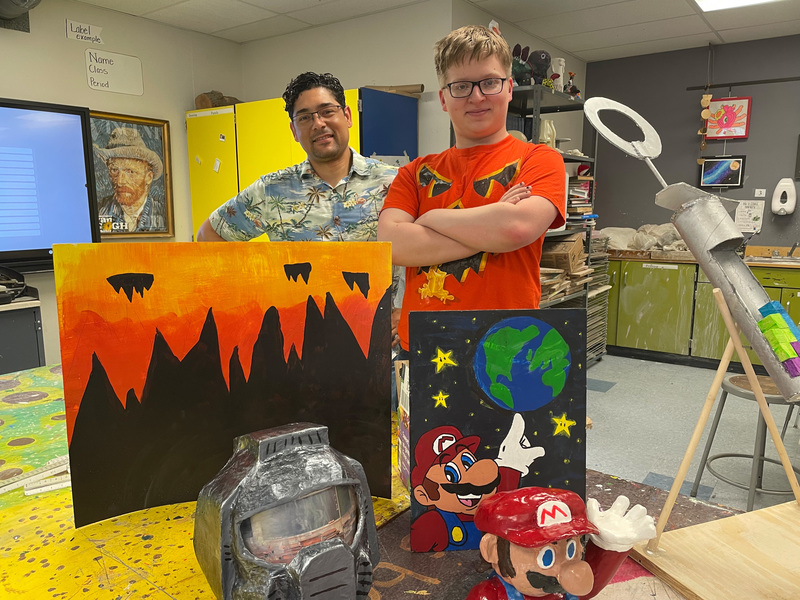 "Independent study has really helped me turn a simple, smaller idea I have about something I want to create and how I can turn that one idea into something more complex and tell a bigger story," Ashton said. "I used to find myself bouncing around from one idea to another without giving it much thought. Through the process of finding a topic I wanted to explore for my art show, I learned that I can better explain an idea through multiple works that share the same cognitive thread."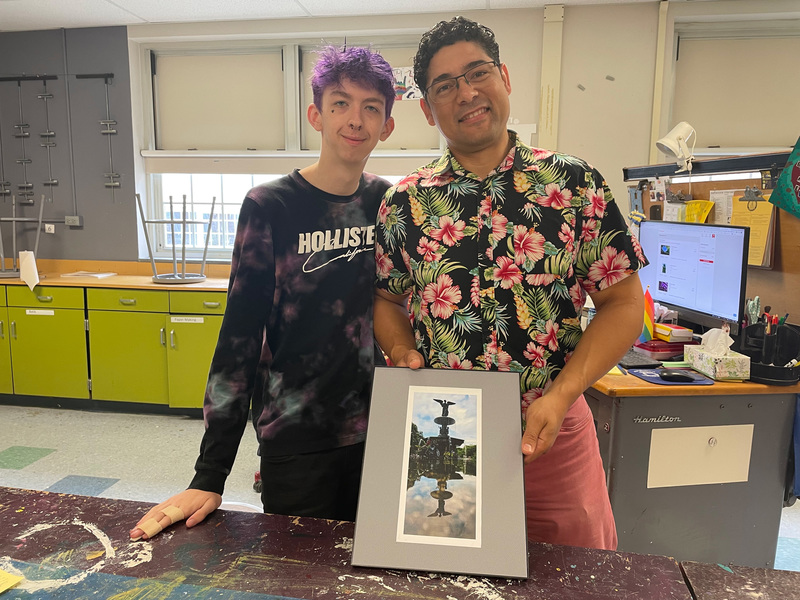 "The hardest part of independent study was balancing my aspirations with the expectations of the curriculum," said Kaden. "I learned how to fulfill the requirements of an assignment, while also satisfying my own unique goals."
Responsibilities for both Kaden and Ashton go beyond their year-end art shows. Both students were expected to take up leadership roles within different art classes taught by Mr. Houston throughout the 20-week program. Those responsibilities included, but weren't limited to; offering help to students who may be working on different projects, problem solving if someone is having a particular issue, and even assisting substitute art teachers with what the class was working on if Mr. Houston wasn't in the room on a particular day.
"One of my goals for both Ashton and Kaden was to serve more as a mentor and to help them prepare for life as a professional artist," Mr. Houston said. "I wanted both of them to become more comfortable with leading the process in the classroom without set instructions from me. It was a challenge for them both to find their voice in the classroom, but the longer the year went on, the more comfortable they became in front of other students, and the students in my class discovered more trust and confidence in their leadership."
That level of trust was put to the test when Mr. Houston's art class was tasked with helping create the set designs for the High School Drama Club's performance of The Wizard of Oz. The class was tasked with working on individual elements of the giant Great Wizard head that was featured in the play. While he was available to offer guidance and advice throughout the process, it was up to Ashton to help other students work through aspects of the design and make sure the project was staying on deadline.
"I essentially become the project foreman for the Great Wizard piece," said Ashton. "It was on me to make sure everyone was responsible for their part of the design, and I needed to be ready to problem solve if an issue came up. Mr. Houston was there to talk us through different scenarios if we ran into a wall, but it was up to us to make sure we had it all ready to go for opening night."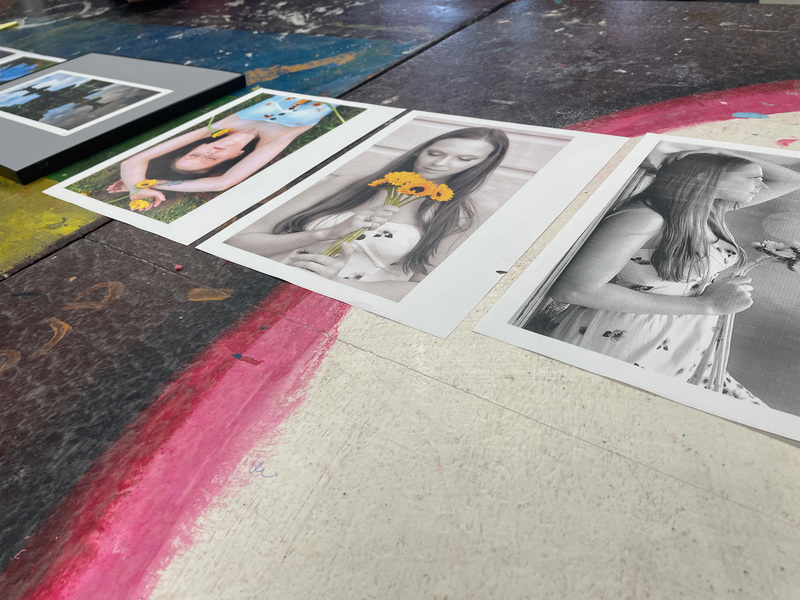 Both students say the overarching theme they will walk away from the Independent Study and Art Show with is a newfound appreciation for expressing themselves to the community.
"I want people to leave my art show with a newfound appreciation of life and all its beauty, no matter how miniscule; for life is truly about the little things," Kaden said. "For me, the best part of the entire process was writing my artist statements. I've always been a creative writer, but being able to connect my writing to my photographs was exciting. My two favorite mediums came together to create something incredible."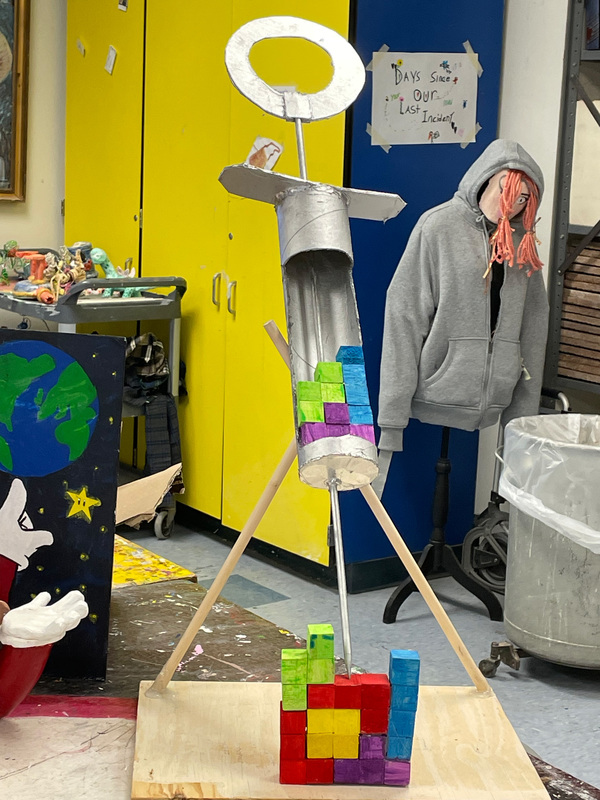 "I feel like I've gone through a transformation throughout the independent study course," Ashton said. "Not only have I become more comfortable with being a voice in the classroom, but I now have a better understanding of what it takes to build an art show from the ground floor. It's a culmination of my high school experience in some ways."
Both Kaden and Ashton will host their art shows in the High School Cafeteria. Kaden's show will be held on Friday, June 2 from 5:00 p.m. to 6:00 p.m. Ashton's show will be on Tuesday, June 6 from 5:00 p.m. to 6:00 p.m. Both shows are open to the public.