Granville Rotary Provides Mock Interviews at GHS
Resurrecting a tradition that had been temporarily suspended during the pandemic, on November 28th, members of the Granville Rotary Club conducted mock interviews for approximately 40 Granville seniors. On behalf of the school, the scheduling of the event was coordinated by teacher Marc Lambert as a component of his College Preparatory and Workforce English courses. Members of Dave Cosey's Syracuse University Project Advance (SUPA) class also participated. Longtime Rotarian Steve Williams, a staunch supporter of the mock interview program, was responsible for securing and scheduling the volunteer interviewers.
The interviews follow a format developed by Granville's Rotary Club sister club in North Wales, Wrexham Erdigg. The template consists of the students' presentation of their biographical data and their response to a series of questions regarding their interests (academic, sporting, and work) and other life experiences outside of school. Additional emphasis is placed on their goals and plans for further education and/or job training. Students subsequently sit next to their interviewers who, with student input, complete an assessment sheet which the student then keeps as a reminder for future real life interviews, whether college or job related.
Besides students' abilities to understand and accurately respond to questions, they are also assessed on such matters as personal neatness, ease of manner in talking to previously unknown adults, and eye contact. In conclusion, students are presented with a short brochure entitled "For Your Next Interview."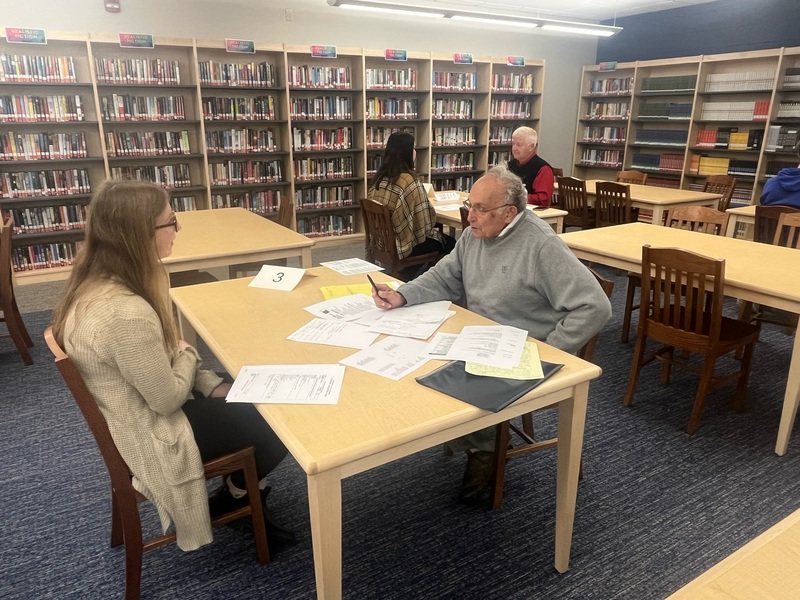 "The members of the Granville Rotary are pleased and honored to provide this opportunity for the students to get practice interviewing via a format that features a comfortable setting and the provision of individualized and constructive feedback," Williams commented.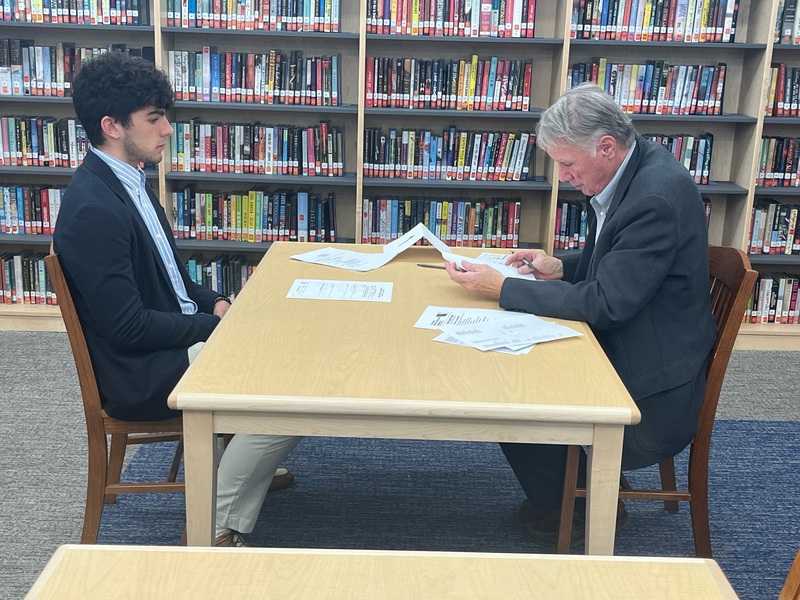 Rotarian Dave O'Brien, a veteran interviewer, enjoyed the chance to interact with a wide array of students. "It is always a pleasure to sit down with the kids, many of whom you have gotten to know in various capacities over the years, and see them in a different light. Some of them know exactly what they want to do, and others are undecided at this point, but I was impressed with how well prepared many of them were. This suggests the school system is doing a good job of educating them and preparing them for the future," O'Brien said.
As did many of his peers, Granville senior Trevor McKnight was quick to laud the mock interview program. "The interview provided a great real life scenario, it was extremely informative, and Mrs. O'Connor was very nice and helpful," he stated.
Lambert summarized this year's mock interview program by saying, "We are very appreciative of Mr. Williams and the effort he has dedicated to organizing such an experienced and quality group of interviewers with a wealth of professional and personal experiences from which to draw in an effort to help prepare students for future, potentially high stakes interviews. Mr. Cosey and I would like to thank all participants for so generously donating their time and expertise. Also, a special thanks goes out to Principal Beecher Baker for his support of the program and to Librarian Mary Bucciero for providing a wonderful setting for the interviews."
Granville Rotary Club is a member of Rotary International which is dedicated to service not only in the immediate locale of its member clubs, but also in projects of an international nature.