Granville Senior Honored with Post-Star Teen Excellence Award
The Granville Central School District is proud to announce that senior Kerri Jennings has been selected as a 2023 Teen Excellence Award Honoree by The Post Star. Jennings is one of only 22 students from across the region to be recognized with this prestigious award.
"It's an incredible honor," said Jennings. "Being selected as an honoree this year is a cherry on top of my high school career, and I wouldn't be here without all the help and support I've received from teachers and friends along the way."
Jennings, who is the President for Granville's FFA program and serves as Treasurer on the Student Council, was nominated for the award by Agriculture Science Teacher and FFA Advisor Mrs. Cahan, Class of 2023 Faculty Advisor Marc Lambert, and High School Counselor Elisa Mittleman for her personal growth as a student, leadership and innovation, and commitment to the community.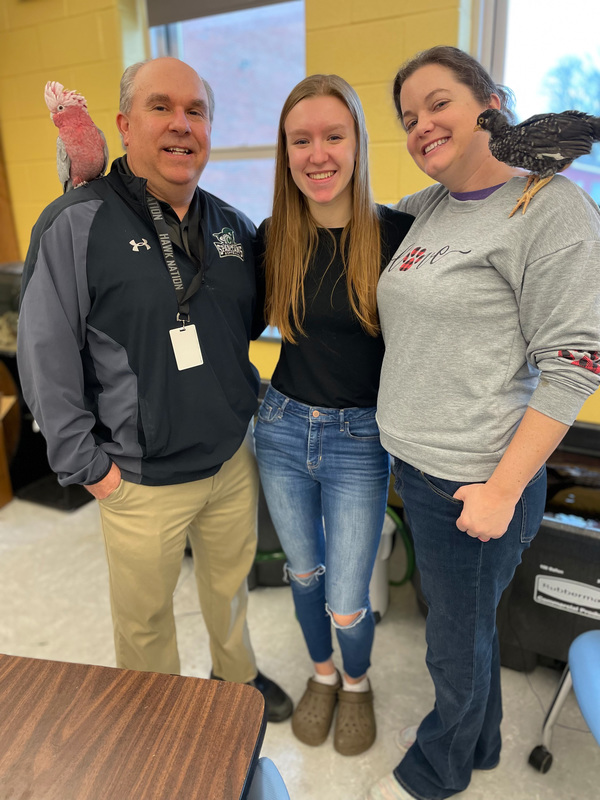 Mrs. Cahan and Mr. Lambert both believe Jennings is the exact type of student and person the award wants to recognize: "Kerri isn't the student you ever have to motivate to go the extra mile; she finds it all on her own. She's not selfish with her education, either. She works so hard to make sure her classmates and peers understand the material as well, and is willing to lend a helping hand without having to be asked."
"Kerri is a one of a kind student," said Mr. Lambert. "She's always willing to sacrifice her time if it means creating a better place for her friends and classmates to experience."
You don't have to search too hard to find programs Jennings has helped create in the school community. Already a member of the girls varsity basketball team, Jennings was instrumental in helping create the district's first unified basketball program. She attended workshops in Albany with school and district officials to pitch the program and how it would be implemented in Granville. She did all this while knowing that she wouldn't be able to play on the unified team.
"Varsity basketball players aren't allowed to play on the unified team, but I wanted more students to have the chance to play basketball while they're here," Jennings said. "I was so honored to be part of that process, and I even served as one of the team managers during their first season last year."
That attitude is part of what impressed Mr. Lambert most about Jennings. Last spring, Jennings was also one of the students helping plan and organize the high school's prom. Mr. Lambert credits Jennings and another one of her classmates with the idea to include various childhood photos of all the juniors who attended the dance so that students could appreciate the journey they've enjoyed together.
"Not only did Kerri help come up with and execute the picture idea, but she was always the one of the first students to volunteer her time and help decorate the venue," said Mr. Lambert.
For her part, Jennings credits how welcoming and supportive her teachers have been at every grade level. She believes the unique opportunities the Granville Central School District has provided her is what got her to this point, and hopes more students take advantage of those possibilities in the future.
"There are so many moments I can point to and say 'oh that's the one that motivated me to do this or that', but I think it's really important to take a step back and reflect on how every little moment helped me get here," said Jennings. "I could single out the unified basketball team, or the trip to nationals in Indiana with the FFA program, or any number of projects I got to be a part of while here. I don't know if I would've been this motivated to be active within the school community if it wasn't for everything Granville has offered me. It's a special place to grow up and be a student. I'll always cherish my time here."
—----------------------------------------------
Reserve your seat at the 2023 Teen Excellence awards breakfast*. The honorees will be awarded on Tuesday, March 21, 2023 at SUNY Adirondack in the Northwest Bay Conference Center located in Adirondack Hall. Registration will begin at 7:30 a.m. Breakfast will be a served buffet and seating will be assigned. Breakfast will start at 8:00 a.m. Awards Presentation will start around 8:30 a.m.
*Reserving seats DO NOT guarantee seating at the same table(s). Seating will be assigned by The Post-Star and SUNY Adirondack
Congratulations to our 2023 Teen Excellence honorees!
Nicole Arcila - North Warren Central School

Kailey Bacon - Warrensburg Central School

Gabriel Burch - Argyle Central School

Eric Bush - Newcomb Central School

Hazel Crossman - South Glens Falls High School

Sophie DelSignore - Bolton Central School/WSWHE BOCES

Emma Hammond - Hudson Falls High School

Clare Hegener - Saratoga Springs High School

Andrew Jeckel - Lake George Jr.-Sr. High School

Kerri Jennings - Granville Jr.-Sr. High School

Aidan Jones - Greenwich Jr.-Sr. High School

Julia Morris - Johnsburg Central School

Morrison Northrop - Glens Falls High School

Ella Palulis - Salem Central School

Louis Pratt - Whitehall Jr.-Sr. High School

Jenna Shannon - Hadley-Luzerne Jr.-Sr. High School

Brody Stockman - Fort Ann Central School

Anna Strader - Indian Lake Central School

Lindsey Torda - Corinth Central School

Shelby Tuller - Minerva Central School

Caitlyn VanDeusen - Schuylerville High School

Abigail York - Queensbury High School